GIMP a powerful free graphics manipulation program.
GIMP is a very powerful program in its own right for editing graphics, while it may not be as powerful as Photoshop, most people will never use all the power of Photoshop making GIMP a good option for a large number of people.
GIMP, the GNU Image Manipulation Program.
What you need to know about GIMP.
It is free.

It runs on Linux, Windows, and Mac.

It is powerful.

There are online tutorials to help you get started.
I am not really a graphics person, I have done some work but my wife Cindy is the real expert at graphics. Here is a link to some of her work Scribler.us. Cindy started off with GIMP since it was free and now uses GIMP and Photoshop to do her digital scrapbook layouts.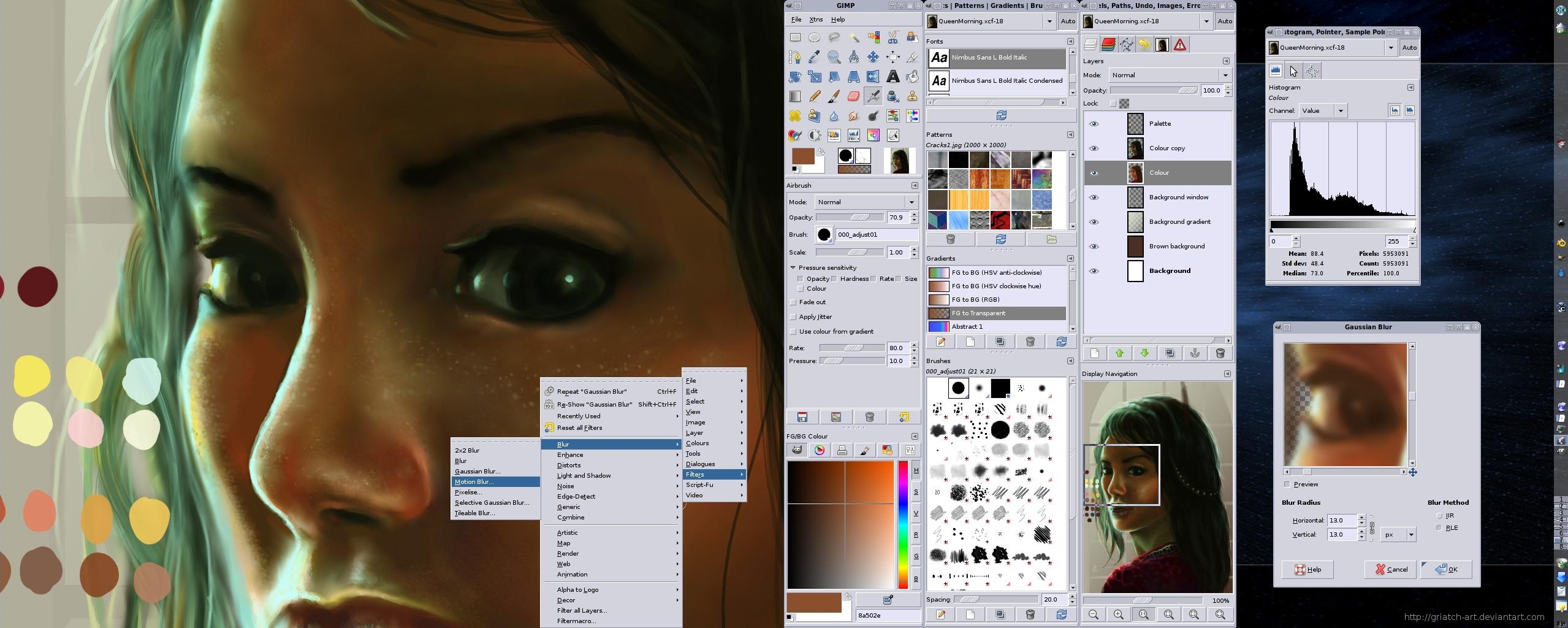 What can you use GIMP for?
GIMP provides tools for fixing photos, painting, and animation. Combine the power of GIMP with the fact it is free and you have a great tool for home users, kids, students, none profits, teachers, web designers, and small businesses that need to work with photos and graphics, but do want to spend the money on Adobe Photoshop.
Here is a list of some of GIMPs features.
Painting

Full suite of painting tools including Brush, Pencil, Airbrush, Clone, etc.
Sub-pixel sampling for all paint tools for high quality anti-aliasing
Extremely powerful gradient editor and blend tool
Supports custom brushes and patterns

System

Tile based memory management so image size is limited only by available disk space
Virtually unlimited number of images open at one time

Advanced Manipulation

Full alpha channel support
Layers and channels
Multiple Undo/Redo (limited only by diskspace)
Editable text layers
Transformation tools including rotate, scale, shear and flip
Selection tools including rectangle, rounded rectangle, ellipse, free, fuzzy
Foreground extraction tool
Advanced path tool doing bezier and polygonal selections.
Transformable paths, transformable selections.
Quickmask to paint a selection.

Extensible

A Procedural Database for calling internal GIMP functions from external programs as in Script-fu
Advanced scripting capabilities (Scheme, Python, Perl)
Plug-ins which allow for the easy addition of new file formats and new effect filters
Over 100 plug-ins already available

Animation

Load and save animations in a convenient frame-as-layer format
MNG support
Frame Navigator (in GAP, the GIMP Animation Package)
Onion Skin (in GAP, the GIMP Animation Package)
Bluebox (in GAP, the GIMP Animation Package)

File Handling

File formats supported include bmp, gif, jpeg, mng, pcx, pdf, png, ps, psd, svg, tiff, tga, xpm, and many others
Load, display, convert, save to many file formats
SVG path import/export

Device support

Pressure sensitive tablets
tilt sensitive tablets
and a wide range of USB or MIDI controllers.
What do you need to get started?
Gimp runs on Linux, Windows, Mac OS/X, as well as BSD, and Solaris so odds are if you have a computer it will run GIMP. The next logical step is downloading GIMP from the GIMP website. After installing GIMP check out these tutorials to get started, and of course you can find video tutorials on YouTube.
The benefits of free software.
Free Open Source Software or FOSS gives the user piece of mind. Almost anything you want to do with the software is going to be fine, want to give a copy of the software to a friend? That is not a problem at all. Want to install a copy on your home computer or laptop? That is also allowed. Let's not forget that it is free which is a big plus. I have no problem with paying for software if you need it but if a free program will do what you need why not save the money?